Dyeing your hair can be a life-changing experience. You'll look different, feel different, and others will respond to you differently. But, because it's such a huge leap, it can be tricky to decide which color is best for you. This is why today, we're looking at hair colors for dark skin.
We want you to have all the relevant information you need before you take the plunge. So, are you ready to safely experiment with your hair? Let's look at some great hair colors for your beautiful dark skin tone.
What Is the Coolest and Best Hair Color for Dark Skin?
1. Honey Blonde Hair
Who says dark skin toned women can't rock blonde hair? Nobody! Because you will look incredibly good in honey-blond hair if you choose to go this route.
If you want to rock a pixie cut or look great in one, this blonde hair color is a great way to go. One thing about this honey blonde hair is that you need to deep condition your hair before you apply it. Why?
Because honey blonde hair color needs bleach to look great. Therefore, at least two days before you get your blonde hair done, ensure you've undergone some good deep conditioning treatment.
You can either rock this honey blond hair in a pixie cut or leave your hair flowing down.
2. Bright Red Hair Color
Have you ever seen a woman with dark skin rocking some bright red hair? What comes to your mind? Bold? Confident? Powerful?
Well, this is gonna be you very soon if you get this hair color. However, note that this is a statement hair color even for dark skin tones. Therefore, ensure that you're sure about your decision before you call your hairstylist.
On the other hand, if this is something that you want but are feeling a bit scared of it, don't be. There's a reason your heart wants this hair color. Not only will this hair color bring out your beautiful dark skin tone, but it will make you feel confident and sexy.
3. Purple Power
There's something about purple that just brings the royalty in you. If you have a beautiful and lighter skin tone or brown skin tone, this hair color will work very well for you.
Whether you want to leave your colored hair long or cut it short, you will love rocking this hair color with darker skin tones.
4. Auburn Red Hair Color
This is a highlight in our list for hair colors for dark skin. Why? Because it's gonna make your dark skin pop like no one's business.
One thing to note is that you'll be turning heads with this hair color. Therefore, if you're shy and like hiding in the shadows, you better be mentally prepared before getting this hair color for dark skin tones.
5. Dimensional Red Hair Color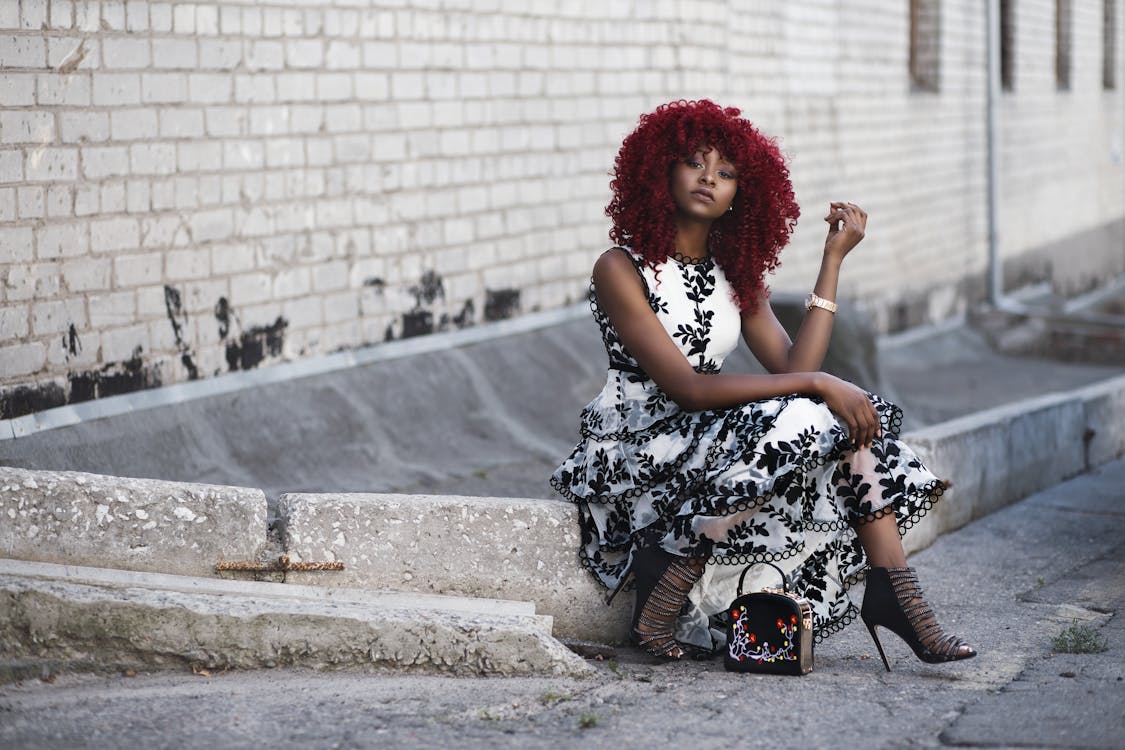 This hair color for dark skin tones is best for short hair. Just like the auburn red hair color above, it will make you feel sexy and alive.
Therefore, if you're want to feel vibrant and energetic, consider this hair color for darker skin tones.
6. Electric Blue
Here's another hair color for dark skin tones that's not very typical. Just like with the dimensional red hair color above, electric blue is perfect for short hair.
Therefore if you have a dark skin tone and have been wanting to cut your hair, consider this hair color.
7. Fire Orange
Here's a hair color for my women with hazel eyes. Are you ready to make your eyes pop? Well, this is the hair color to help you do that.
Just as the name suggests, this fire orange hair color will bring out the fire in your eyes and add some personality to your whole look. Even if you have a medium-dark skin tone, you can still rock this hair color for dark skin tones.
Like honey blonde hair, you may need to deep condition your hair before applying this hair color for dark skin. This is because you'll need to bleach your hair before you apply this hair color.
You can tell your hairstylist to do a strand test before applying this orange hair color to your whole head.
8. Platinum Blonde
Here's a cool winter color you can rock against shadow roots. If you're thinking of rocking this stunning hair color, we advise you to only do the tips.
Why? Because platinum blonde hair color can be damaging to natural hair. If you're on the fence about getting this color on your natural black hair color, you can start with a wig from there.
9. Copper Hair Color
Copper hair color is gaining momentum as good hair color for dark skin tones. Why? Because this hair color brings out your dark skin tones and makes your skin pop.
This hair color for dark skin is a rich mix of various shades of copper to give you the best outcome. Although you can safely dye your hair at home, it's best to go to your color stylist for this one. This is because it requires more care and expertise than most hair colors on this list.
10. Light Blue Hair Color
Oh yeah. You can rock light blue hair with your dark skin. If you love the ocean, you can try this color for dark skin to carry the ocean with you everywhere you are.
You can rock this hair color with a good silk press, either long or a short bob.
11. Rose Gold Hair Color
This hair color for dark skin is the perfect choice if the other red hair colors are a bit too intense for you. Whether you are rocking straight hair or curly hair, this is a great hair color to have.
12. Soft Chocolate Brown Hair Color
This hair color is for dark skin if you still want dark hair but want to go a bit brown. If you're unsure about this hair color for dark skin, you can look to Meghan Markle for inspiration.
She rocks this soft chocolate brown hair color with ease. Definitely a color for a princess.
13. Rose Gold Highlights
We've talked about the rose gold hair color for your complete head. Now, let's look at rose gold highlights if you don't want to go all out with the color. If you have a neutral undertone, rose gold highlights will look great on you.
This hair color for dark skin is great for warm undertones because it highlights the natural bronze of your skin.
14. High-Gloss Back Hair Color
Even if you have naturally dark hair, you can still create a change with some gloss. Gloss adds shine to your hair and can shift the tone of your hair.
15. Pink Hair Color
Do you want to go back to your barbie days? Here's a fun hair color for dark skin to try. Need some inspiration to pull off this bold look?
Just check out how Lizzo killed it at the 2019 Met Gala. Then, just like her, you can start off with a wig or weave before dedicating yourself to this hair color for dark skin.
16. Warm Hazelnut Hair Color
Warm hazelnut hair color for dark skin is another popular color for a reason. If you're a fan of Issa Rae or Insecure, you know how bomb this hair color is. But, just like copper, these hair colors for dark skin are perfect for creating a sophisticated look.
17. Black Color with Burgundy Highlights
Here's another highlights option you can try if you're not ready to commit to a full head of dyed hair. Check out how Kerry Washington rocked this look at the 2016 Met Gala for some inspiration.
This hair color for dark skin will give your look a touch of intrigue while still keeping your look subtle.
Now that we've looked at some amazing hair colors for dark hair, let's look at how you can maintain the incredible look you choose.
How to Maintain Hair Color for Dark Skin
We've looked at the amazing options you have when it comes to choosing the right hair color for dark skin for you. Now, let's look at ways you can make the hair color last.
Here are some tips you can use.
1. Wait for 24 Hrs Before Shampooing
Whether you're using the best natural shampoo or not, avoid jumping right into the shower to clean your hair right after dyeing. Before shampooing, you should wait at least 24 hours after applying your chosen hair color for dark skin.
If you strongly feel the need to clean your hair, you can run your hair under some cool water. Then, you can use your fingertips to scrub your scalp for some freshness. This will not affect your blonde hair or burgundy hair color as much.
Remember to use shampoo for colored hair when cleaning your hair. This will ensure that the stunning hair colors stay intact without fading.
2. Don't Shampoo Daily
You probably don't want to hear this, but your shampooing habits are gonna have to change after you dye your hair. After choosing the best hair color for dark skin for yourself, you'll need to reduce how many times you wash your hair if you've been doing it daily.
The truth is that it's actually not advisable to wash your hair daily. Instead, every 2 to 3 days is fine because you also don't want to strip your scalp of beneficial natural oils.
Remember to choose shampoos that are great for dyed hair. By now, you probably realize that dyeing your hair is a whole experience. You'll have to change most of your hair habits to accommodate this new change.
3. Avoid Super Hot Water
Although having hot water running over your skin in the shower is a calming experience, it's not worth ruining your colored hair for.
It's not that super hot water will make your colored hair fall off. It's that it will reduce the brilliance of the color. Therefore, if you want to maintain the amazing vibrance of your blonde hair color or golden highlights, avoid really hot water.
4. Take Extra Care While Swimming
Before you frown at this and kiss your swimming days goodbye, wait a minute. We're not saying that you have to give up swimming. Just that you should take some precautions.
Some of these precautions include using a good leave-in conditioner before getting into the body of chlorine or using a swimming cap. The best way to use the conditioner is to mix some good leave-in conditioner with water in a convenient spray bottle and apply it to your hair before taking a dip into the pool.
You need to protect your blonde hair or red hair from chlorine because it makes the color fade.
5. Avoid Heat
Heat becomes the enemy once you've dyed your hair with hair color for dark skin. Of course, this doesn't mean that you'll have to walk around with frizzy hair all day. No.
It just means that you'll have to be extra careful when using your curling iron or blow dryer. We recommend using a good heat protectant before styling your beautiful hair.
You want your hair to bring out your brown skin, whether you have a dark skin tone or medium-dark skin tone. Therefore, you can still continue to style your hair as you wish. You'll just have to be a lot more cautious.
Use less heat and protect your hair from the heat.
6. Condition Regularly
Once you choose a good dye that complements your brown skin, you'll need to invest in a good conditioning treatment. The advantage of using conditioning treatment at least twice a week is that it adds moisture to your strands.
Why is moisture important? Because it keeps your hair color for dark skin from fading. The highest cause of faded hair color is dryness. Therefore, ensure that your hair is always hydrated to get ahead of the problem.
7. Stay Away From Sun
Although your beautiful dark skin or brown skin can handle some sun, your colored hair isn't as strong. So exposing your colored hair for dark skin to the sun can cause it to fade.
This is where you start shopping for some good hats that you can use to protect your hair while outdoors.
Let's Recap
Which color did you like the most? Remember to choose a hair color that matches your personality or suits the person you want to be.
If you're unsure about making a permanent decision, you can always try one of these semi-permanent hair colors to test the waters. Then, once you're sure, you can come back to this list and pick the best color for your dark skin.