Are you tired of French braiding and want to learn how to dutch braid your own hair? It's not a secret that Dutch braids are a style staple and have been rocked from the Kardashians, Rita Ora, to Yara Shahidi.
Of all at-home hairstyling options such as trimming or blowdrying, braiding your own hair can be tough if you aren't very savvy with braiding. Dutch braids can feel very intimidating to try on your own hair, but this read will guide you through each step no matter your texture or length. However, with some practice, you can commit action to muscle memory in a short while.
What is a Dutch Braid?
A Dutch braid is also called the reverse french braid or boxer braids (incorrectly attributed to UFC fighters). Dutch braiding is done by crossing the hair underneath sections of hair, creating a 3-D or a raised appearance.
A French braid that is the traditional three-strand braid requires you to start braiding your hair sections by crossing over, while a dutch braid is created by crossing under the hair sections. No matter the hair type, anyone can dutch braid their own hair once they master the skill with endless hairstyles options. In addition, a basic dutch braid works on most hair lengths but if you have short hair, consider doing the double dutch braiding instead.
To develop the most straightforward step-by-step guide, we have researched the internet for Dutch braid tutorials so you will not have to. Therefore, here is an easy dutch braid step-by-step guide on how to dutch braid your hair.
What You Will Need for Dutch Braiding
Edge Control
Hair gel or Pomade
Clean hair ties
Detangling Brush
Detangler
Anti-frizz serum
Rat-tail comb
Step by Step Guide to Dutch Braid Your Own Hair
1. Brush Your Hair
To get the best results, you will have to start with clean hair and scalp to avoid product buildup or excess oil. If you have sleek hair, you can try using some texturizing mousse first or try using a dry shampoo to clean your hair without washing.
Dutch braids can be done on damp or dry hair, but the hair should be brushed and detangled to free any knots or tangles. If your hair has flyaways, mist them with some water or use a smoothing product such as a pomade, hair gel or serum to tame them.
Notably, braiding on wet hair can be a perfect way to curl your hair without using any heat. However, you will need to let your hair dry completely before taking your dutch braid out.
2. Part the Hair
Brush your hair straight back to avoid having any center or side parts. At your front hairline, create a hair section by sliding your thumbs through your hair where the section should span your forehead's width.
Using this method, you will create one large braid down the center of your head. Contrarily, you can put your air into a half-up half-down ponytail at eye or eyebrow level.
Ensure your parting is as straight as possible, where you can use your nose bridge as a guide and follow upwards using a tail comb. The part should feel like your part is in the middle of the nape of your neck once you reach the bottom, and then place a hair section on each shoulder.
3. Split the Hair Section into 3 Strands
At your hairline, grab some three strands, about half an inch or less.
Hold your right strand with your right hand and the other two strands in your left hand. Allow the middle strand to drape over your middle finger and hold your left strand against your palm with your pinkie to keep them separate.
The piece on the right hand should go under the middle, and the hairpiece on the left side should be under that. Start by braiding from the right side, but reverse everything if starting from the left side is more comfortable.
4. Anchor the Dutch Braid
Cross the right strand under your middle strand and then cross your left strand under the new middle strand. Crossing the two strands under instead of over is crucial to get the perfect braid because otherwise, your Dutch braid won't turn right.
5. Add a thin section of hair to your right strand
Take a thin strand of hair from your hairline's right side and add it to your right strand. Treat the two strands as one and cross them under the middle strand. Use your fingers to smoothen any stray hairs and ensure you have a tight braid.
Ensure the thin strand is smaller than the right strand, then add hair to it and ensure the added hair will go under the middle strand.
6. Repeat the Process on your Left Section
Take a thin hair strand from your hairline's left side, add the left strand, and cross it under your middle strand. Smoothen any stray hairs and ensure you have tight braids.
7. Dutch Braid to the Nape
Add some thin hair strands to the left and right strands before you cross them under the middle section of the hair. Try to keep your thin strands consistent in size and ensure you braid as tight as it will feel comfortable for you. Notably, you can always loosen the braid later and when you reach the nape of your neck, stop.
8. Finish with Classic Three Strand Braid
Take the remaining hair in the right, middle and left strands to ensure you distribute it evenly. Finish with a standard braid by crossing right and left strands under the middle one.
Keep the stitches tight and smooth, and then you can tie the braid off with a hair tie when there are about 2 inches of hair left or continue to braid until the end. When the beautiful braid is too long to braid down your back, bring it over your shoulders and then finish braiding.
9. Loosen Outer Strands
To make the Dutch braids look fuller, you should start from the end of your braid and gently tug on your outer strands to loosen them. For a carefree look, rough up the fine hairs on your hairline but not too much as your braid will loosen on its own during the day. A hairstyle you can try is the romantic twist where you will need to coil your braid into a bun, and at your neck's nape, secure it using bobby pins.
How to Style Dutch Braid
After you have learned how to do your inside-out french braid, you can also learn to style it. The easiest way to style your hair is by leaving the reverse french braids to flow freely.
In addition, you can hold your hair in a low bun or updos, and there are plenty of fancy hairstyles you can try out after you dutch braid your hair. They include:
a). Side Dutch Braid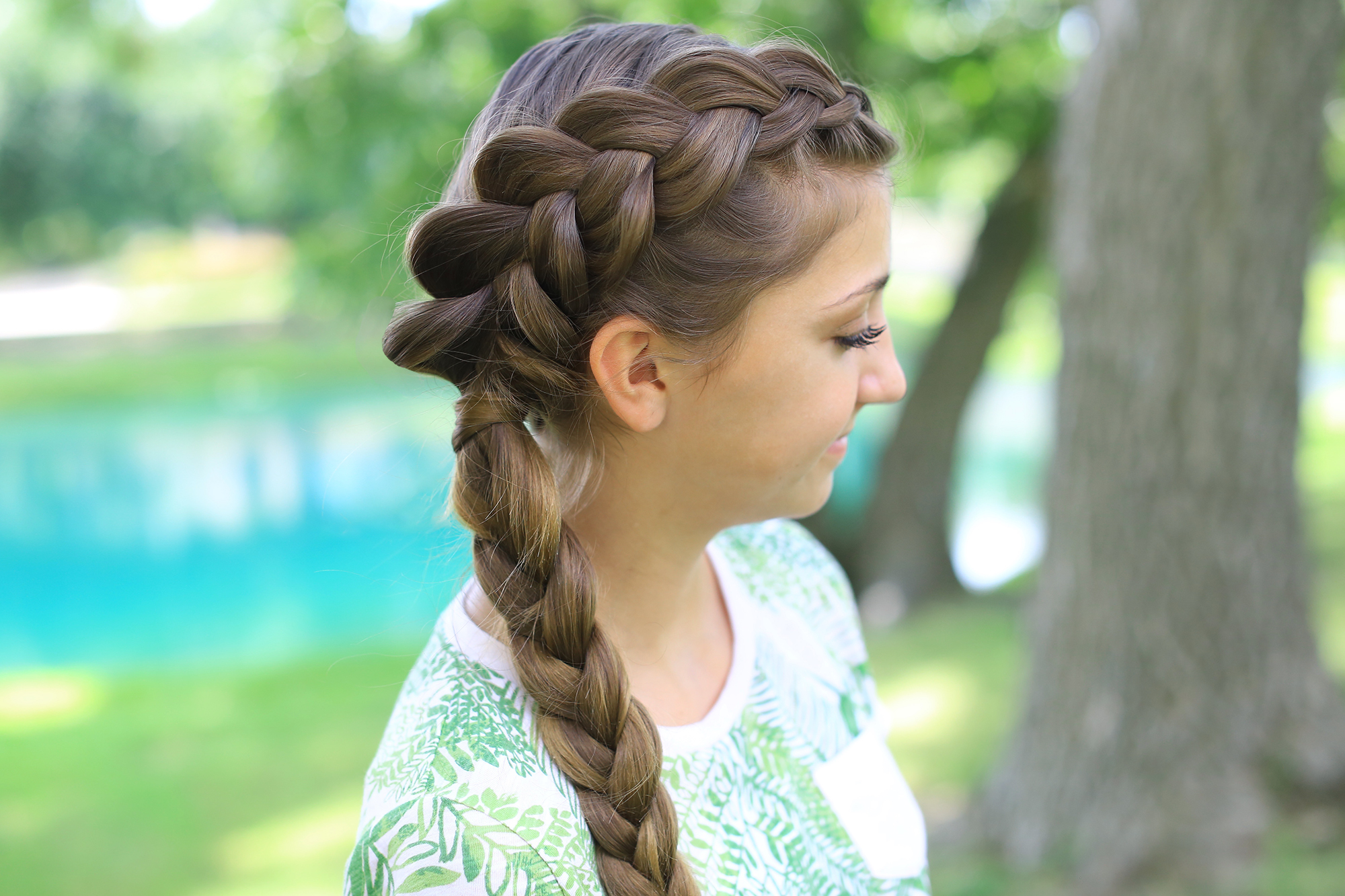 Image Credit: cutegirlshairstyles.com
This boxer braid hairstyle is suitable for both long and medium hair strands. However, you can use this hairstyle if you have layered hair, but you have to use hairspray and hairpins to keep the short hair in place.
Wearing your Dutch braids in this style gives you a feminine look. The braids can work for weddings, formal events, casual days, parties, and even school.
b). Cute Double Dutch Braid
Image Credit: missysue.com
This hairstyle looks great for anyone with short hair, and you can easily create this look for your daughter before she heads to school. According to most beauties, this hairstyle is among the easiest yet most cute styles you can rock. In addition, it is suitable for most outfits, both casual and official.
Wearing this hairstyle with your dutch braids gives you a little princess shine, and the hairstyle can be rocked with your natural hair color or even dyed hair.
c). Messy Double Dutch Braid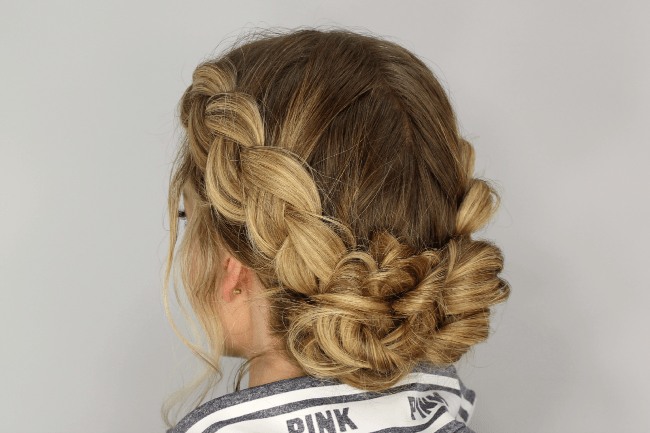 Image Credit: missysue.com
The messy hairstyle gives messy low-key vibes as you have just woken up and everything is not uniform. To achieve this hairstyle on your head, follow the steps to dutch braid your hair but keep your braiding loose on each side.
Alternatively, you will not need to braid all your hair, and you can leave the hair from your nape to flow freely and use a hair tie or a hair elastic. When you combine this dutch braid style with your highlighted or bright hair color, it will give you a perfect look.
d). Soft Dutch Braid for Super Long Hair
Image Credit: twistmepreety.com
Is there a style that is more romantic than this for Dutch braids? To achieve the hairstyle, start by braiding your hair in front where it's not that thick and gather some hair as you continue to braid.
The hairstyle will give a soft and loose-looking look, and it will look stunning, especially with long hair, but you can also pull this look off with medium hair.
e). Dutch Braid Plus a Low Bun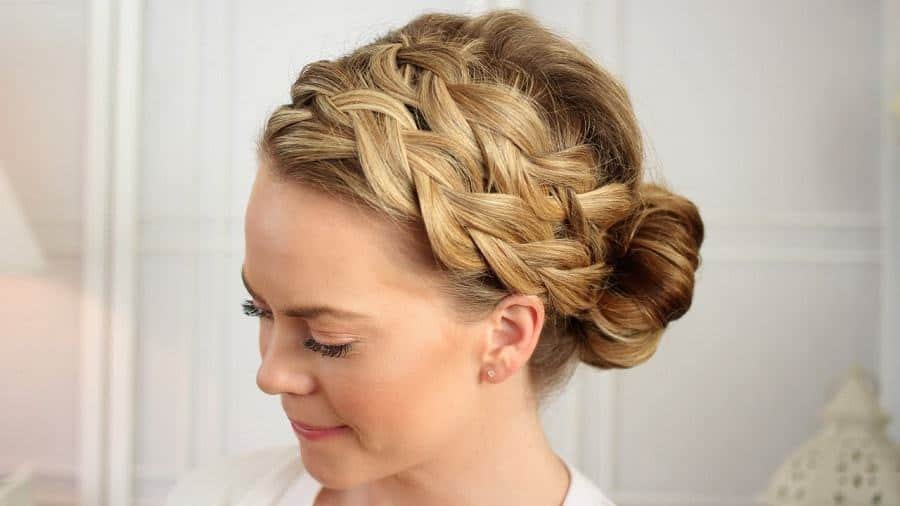 Image Credit: hairstylecamp.com
Ever thought of this combination? A loose dutch braid at the crown and ends with a low messy bun at the back of your head? Superb look
To achieve the hairstyle, leave some strands out of your bun to give a natural romantic look but remember you have to show the biggest advantage of braided hair. If your hair is ombre, pull this style as it will help you add more texture and dimension, making you look like you have more hair than you do.
Image Credit: luxyhair.com