During special events like weddings or beach holidays, many people lookfor ways to achieve a healthy tan on the skin. To help you achieve that sun-kissed glow tan, the best indoor tanning lotions can give you the best results.
There are many types of tanning lotions available in the market today. However, they all do not perform the same function. Some tanning lotions are meant for outdoor use while some are for indoor use on a tanning bed. Some have a plain tan, with the sole purpose of protection, while others also are meant for self-tanning, in varying degrees.
Finding the best indoor tanning lotion that matches your skin type can be a challenge to many. That's why we have provided a review of the best indoor tanning lotions and a buying guide, to help you find the best lotion, no matter what skin type you have or your tanning preferences.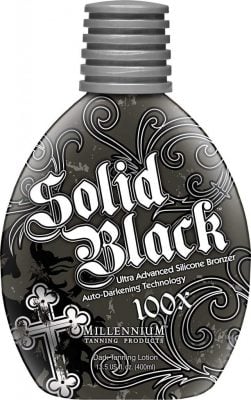 5 best indoor tanning lotions
1. Ed Hardy Coconut Kisses Golden Tanning Lotion, 13.5 oz
Ed Hardy Coconut Kisses Golden Tanning Lotion, 13.5 oz
Ultra-Darkening Skin Hydrating Intensifier: Contains coconut milk,...
Tattoo Fade Protecting Formula: Helps prolong the life and radiance of...
Quad Tyrosine Blend & Melano Bronze: Stimulates and increases melanin...
Coconut Paradise Fragrance: An intoxicating light coconut fragrance...
Ed Hardy tanning products are part of the Tanovations company. The Ed...
Ed Coconut Kisses Golden Tanning lotion is our top pick since it gives an excellent gold tan for your skin. Just from its name, you can guess that it features coconut oil and coconut milk that aids in moisturizing the skin.
It has tanning intensifiers that give you a golden tan by increasing the formation of melanin and promotes a darker, long-lasting tan. This tan stays intact even after leaving the tanning salon.
Most tanning products may require an additional product for tattoo protection, but for this one, it acts alone in protecting and extending the life of your tattoos. Furthermore, it reduces the appearance of cellulite and protects against color fade.
Pros
It has a really nice scent
Affordable
Lightweight and easy to apply
Absorbs quickly
Prolongs the life of your tattoos
Reduces cellulite
Coconut oil and milk for skin hydration
Gives a long-lasting tan
No streaking
Cons
The scent may be too strong for some people
2. Millennium Tanning Products: Dark Tanning Lotion, 100x, 13.5 Fl Oz
This is an advanced tan darkening lotion containing silicon and bronzers to accelerate aims to accelerate the tanning process. If you are looking to get the darkest tan possible, then, you should definitely consider buying this. The Millenium Tanning New Solid Black Bronzer Tanning Bed Lotion, leave your skin feeling soft and smooth as a result of the silicon.
It works best and more effectively with a base tan, as most bronzer tanning lotions do. The 100x means that this product gives a darker tan quickly, even after one use. This also means that you have to be careful while applying and immediately wash your hands after applying to avoid stains. This tanning lotion also has a light scent that is pleasing.
Pros
Leaves the skin feeling smooth
High-quality bronzer
Great consistency
Has a pleasant scent
Results are quick
Affordable
Cons
Streaking and orange spots may occur, if not applied correctly
3. Tan Asz U Luau Island Black Bronzer, 13.5 Ounce
Sale
The Tan Asz Black bronzer is another effective lotion that gives a nice golden and dark tan. It is a natural-looking tan that helps you achieve the darker shades effortlessly. Its silicone material enables the conditioning of your skin, giving a nice, long-lasting, and soft feel.
It is made from some island extracts and a Marula Goddess Glow Serum, that has high levels of Marula Oil. This helps in the tanning process and healthier skin. It is paraben-free and therefore doesn't cause reactions, especially to sensitive skin.
It has a nice peach smell that is not too strong. This lotion also applies quickly. Its effectiveness and nice golden tan make it worth its affordable price.
Pros
Affordable
Great consistency
A pleasant smell
Doesn't stain
Immediate results
Great for darker tans
Cons
If overused, some orange streaks might be seen.
4. Millenium Tanning Paint It Black 50X,13.5 Oz
Millennium Tanning Paint It Black 50X - Extreme Dark Tanning Lotion, 13.5...
Instant Dark Tan - See skin-darkening results immediately after...
Offers A Bronze Glow - Millennium Tanning's dark tanner that works...
Tan Accelerator - For longer-lasting tans that won't get discolored
Silicone Emulsion for Softness- Dark tanning lotion that firms yet...
Ultra Moisturization - Your outdoor/indoor tanning lotion for a...
The Millennium Paint It Black Indoor Tanning Lotions uses a new auto-darkening tan technology that is responsible for giving a bronze tan. It smoothly and quickly applies to the skin without any streaking. the super-luxurious silicone emulsion blend.
It features a silicone emulsion blend that leaves the skin feeling soft, hydrated, and healthy. It not only applies fast but also has a tanning effect that can last all day. It has a fresh fragrance called Clean Cotton Blossom and gives a nice youthful glow.
Another good thing about this lotion is that it is suitable for all ages and skin types. If you are looking to get the darkest tan, then this might be another great option for you.
Pros
Reasonably priced
Does not streak
Absorbs fast
Gives a soft feel
Long-lasting
Adds a glow
Great scent
Suitable for all ages and skin types
Cons
Can be harmful to people with sensitive skin
5. Australian Gold, Cheeky Brown Accelerator 8.5 oz
The Australian Gold Cheeky Brown Tanning Lotion made it to our list because of the excellent results it gives after only two tanning sessions. Australian Gold as a company boasts its loyal following and reasonable prices. It is better than some of the highly-priced tanning lotions.
It absorbs quickly on the skin, just like all the products on our list. The product has a cocoa dream scent and leaves no oily residue on the skin. Some of the ingredients are native Australian oils, vitamins A and E, that moisturize the skin giving it a smooth feel.
A great advantage of this lotion is that it can be used indoors with a tanning bed and also outside. It protects the skin and gives it a nice even color. This lotion protects skin during tanning providing a nice even color.
Pros
Safe to use.
Has natural ingredients.
Moisturizes the skin
Can be used indoors and outdoors.
The scent is nice to some people
Great for dark tanning
Absorbs quickly to the skin
Cons
Some people may find its smell unpleasant.
Buyers' Guide for indoor tanning lotions
As you can tell from our list of the best tanning lotion, there are many lotions in the market. The first one was of course our top pick although it all depends on what you're actually looking for. There are several things you need to consider before buying an indoor tanning lotion. They include;
1. Skin type
Some of the best tanning lotions are the ones that are great for your skin tone. It is very important to consider this aspect because some types of skin are more vulnerable than others.
Make sure the lotion perfectly matches your skin. For indoor tanning, it is easier to adjust the level of UV rays that gets in your skin, depending on your skin tone. During the tanning session in the tanning salon, the experts should assist you in choosing the ideal settings for your skin.
Also, tanning can be extremely drying and can also cause fine lines and wrinkles if you are not careful. However, some indoor tanning lotions have anti-aging and firming properties that protect the skin, together with the natural ingredients that are added to the formula.
Tanning lotions can be unbearable especially if it's your first time using one. Most people say it gives a hot, prickly sensation that can be uncomfortable. So, it's important to always do a patch test on a small section of your skin, to determine if it's the best for you.
2. Intensity
Tanning beds still have a limit on how strong their settings can be, so it is important to buy the right lotion to pair it with, in order to get the right color you want for your skin. Different tanning lotions give different results in terms of depth and color.
Some lotions contain more bronzing agents. This number is usually indicated beside the name on the bottle. The higher the number, the darker the tan is, and the darker your skin will be. The level of your tan can be adjusted depending on the intensity that you pick.
However, some intense indoor tanning lotions may cause streaking and staining your skin. While using the darker tans, make sure to wash your hands after your tanning bed session.
3. Types of indoor tanning lotions
There are different kinds of tanning lotions. To know which one best suits your skin, it is important to conduct a patch test. Some types include;
Tingle- This helps in accelerating the tanning process by increasing blood flow which improves melanin production. Not everyone can tolerate their regular use.
Bronzer- They assist in deepening the tan while also providing the skin with a temporary glow. It doesn't cause any sensations and is preferred for people with sensitive skin.
Intensifiers- They can darken skin that has reached a limit in tanning. Often paired with bronzers.
Cooling- They give the skin a cool and refreshing feeling, especially on a hot and humid day. Great for people who sweat a lot.
Cocktail lotions-These ones have two or more types included such that the lotion is an accelerator, bronzer, maximizer, and an intensifier in one.
4. Scent
You always have to be mindful of fragrance added to some lotions. Some scents can be a skin irritant, which can cause a lot of damage during your tanning session. It is important to find a lotion that has your favorite scent, to avoid damages and also bringing the bad tan smell everywhere you go.
5. Ingredients
This is a very important feature to consider. Some tanning lotions have ingredients that can be harmful to your type of skin. Ensure your lotion does not have ingredients such as paraben which might cause damage to the skin and your body. Apart from that, check if the lotion has some of the best ingredients to protect your skin. Natural ingredients are preferred.
6. Price
The price should be not only affordable but should also show the value of the cost. The cheap lotions may sometimes lack some of the best ingredients to protect your skin while the expensive ones can be overpriced. Compare the value you are getting with the price that you're paying.
Frequently Asked Questions(FAQs) on indoor tanning lotion
1. What indoor tanning lotion gets you darkest?
If you're looking for a tanning lotion that will give you the darkest tan, then we would recommend the Millennium Tanning Products: Dark Tanning Lotion, 100x, 13.5 Fl Oz. It is an ultra-advanced 100X silicone bronzer that uses auto-darkening tan technologies to optimize your tanning session.
However, this lotion is not a self-tanner. It is an ideal accompaniment you'll see a dark tan after only one session along with a long-lasting effect.
2. What is the best indoor tanning lotion?
The best tanning lotion for indoor use depends on your preferences and needs. According to us, the best would definitely be Ed Hardy Coconut Kisses Tanning Lotion, 13.5 oz. It is one of the best when it comes to giving a dark tan and also gives a smooth feel on the skin, among its other many advantages.
3. Do indoor tanning lotions really work?
Yes, they do. If you are not using an indoor tanning lotion, you could be wasting your tanning session. According to a study by the American tanning Institute, people who used these tanning lotions showed an overall improvement in the ability of the skin to dark tan. They also improve the skin by making it smoother and less likely to form wrinkles, especially for dry skin.
4. Should you shower after tanning?
It is recommended to wait a minimum of 4 hours before not only showering but also swimming. This is because it is possible to wash away the tan in the shower.
5. What are the benefits of using an indoor tanning lotion?
There are many benefits of using the tanning bed lotion, some of them include;
Makes the tanning process easier
Gives a realistic tan
Prevents damage caused by sun
Reduces the risks associated with tanning such as skin cancer
Simple to apply
Improves the melanin production
Give the skin a nice glow and smooth feel
6. Why am I not getting darker in tanning beds?
The reason could be you have reached a tanning plateau, which is a limit to how dark someone can get. However, if you want to get darker, you can switch the tanning beds and lotions you use after a few sessions.