With the impressive aftermath that waxing provides, many people are leaning toward hair removal waxing rather than shaving. The best hard wax beans will help remove unwanted hair on those intimate areas.
Which hard wax is best?
Unlike soft wax, which is best used for larger areas such as legs, hard wax is commonly used for sensitive skin and hard-to-reach areas like the bikini line, upper lip, underarms, etc. This is because it is known to be a relatively painless hair removal process and does less damage to the skin.
Hard wax strives to make the unwanted hair removal experience less teary, eliminating the requirement for wax strips. So, this guide will help you pick the best hard wax beans, whether you want a professional waxing kit or wax for home use.
What is Hard Wax?
Hard wax is one of the types of wax that, when applied, adheres to the hair follicle instead of the skin. It then hardens and is removed on its own, eliminating the need of having wax strips. Since this wax sticks to the hair, it enables specific areas to be waxed several times to eliminate all body hair without irritating or damaging the skin.
Let's look at some of the best hard waxes that you can buy, based on your skin type.
1. Cirepil Unscented Non-Strip Disposable Blue Wax
Cirepil All-Purpose Unscented Non-Strip Disposable Blue Wax Refill Bag...
FOR PROFESSIONAL USE ONLY
EFFECTIVE & LONG LASTING: Cirepil's patented polymer formulas, high...
SAFE FOR ALL-PURPOSE USE: Cirepil created a range of gentle waxes (low...
PROFITABLE & EASY TO USE: Cirepil Wax is easy and convenient. Unique...
HOW TO USE: Melt wax (within it's tin) in the Cirepil Heater until...
The Cirepil All-Purpose Unscented Non-Strip Disposable Blue Wax boasts a patented formula that ensures you can effortlessly wax your skin. It is designed to be used on all types of hair and length. Whether long, short, soft, or coarse, the wax will still deliver outstanding results.
Furthermore, this gel-textured hard wax brand is dermatologically tested to be used on all parts of your body. They are free from parabens, gluten or animal cruelty and are gentle on the skin. It doesn't contain any artificial fragrances that may cause irritation to your skin.
This wax is easy to apply and hardens quickly. It is mostly used by professionals who are not only looking to remove unwanted hair but also to get perfectly hairless and smooth skin.
2. Lifestance Hard Wax Beads, Brazilian Bikini Wax
Sale
Hard Wax Beads, Lifestance 1lb Waxing Beads, Brazilian Bikini Wax with 10...
✓ Lifestance Full Body Wax: Lifestance wax is designed for full body...
✓ Lifestance Brazilian Bikini Wax: Made to be smooth and creamy with...
✓ Lifestance Home Waxing Kit: With 1 pound natural hard wax beans...
✓ Lifestance blue refill hard wax: Formulated for beginning users....
✓ WORRY-FREE GUARANTEE - With our 100% RISK-FREE SATISFACTION...
If you have coarse hair, then the Lifestance hard wax beans are a perfect choice for you. This Brazilian wax is designed to work on all skin types as well as all areas of the body. The wax formula includes jasmine oil extracts that calm and soothes your skin.
All you're required to do is to apply melted wax on the skin, wait for approximately 40 seconds, then peel it off. It comes as a waxing kit that includes 1 pound of hard wax beans made from natural ingredients and 10 disposable spatulas that gives a pain-free flawless hair removal.
As one of the best Brazilian waxes, the Lifestance wax kit is formulated for beginner users. This is because it includes an easy-to-apply low melting point wax that ensures users can apply the wax back and forth and dries slower for an awesome experience.
3. GiGi Student Starter Hair Removal Kit
Sale
GiGi Student Starter Hair Removal Kit, Ultimate Waxing Set for Beginners,...
Complete Basic Waxing Kit: This is the ultimate starter kit for all...
Multi-functional Wax Warmer: Compatible with 8 to 12 oz wax...
Hard Wax for Full-Body Waxing: Includes GiGi's best-selling...
Complete Pre and Post Treatments: With before and after waxing...
Trusted Brand: Maker of professional-grade waxing products with...
Prefer getting a full hair removal kit instead? The GiGi Student Starter Hair Removal Kit comes with everything you need to get started with waxing at the comfort of your home. The kit includes a Brazillian hard wax, wooden applicators, post-wax cooling gel, and a professional wax warmer.
This wax warming machine is easy to use and can hold between 8oz and 14z of wax. Additionally, it has adjustable temperature settings as well as light indicators that provide you with information concerning the heat levels of the wax.
The wax in this waxing kit is made from ingredients like Soybean and Olive oil. These ingredients come in handy to remove hair, even the shortest hair, from hard-to-reach areas.
The applicators come in three sizes: large Accu edge applicators, small Accu edge applicators, and petite applicators. The applicators can be used in large areas like legs, arms, chest, back, etc., as well as small areas like the bikini area, chin, eyebrows, lips, etc.
4. KoluaWax Hard Wax Beads for Hair Removal
Sale
Looking for a hard wax that can tackle both thick and thin hair? The KoluaWax Hard Wax Beads for Hair Removal come with a flexible formula and creamy texture that ensures easy hair removal. It is enriched with the greatness of coconut oil that provides excellent moisture for your skin.
Furthermore, this wax can be used on all parts of the body, including the chest, face, legs, arms, and around the bikini area. From the large 1 pound bag of KoluaWax hard wax bag, you get 40 bikini waxes or more and ten disposable spatulas.
5. Wakse Mini Rose Gold Hard Wax Beans
Sale
wakse Mini Rose Gold Hard Wax Beans (4.8 Oz)
"At home waxing has never been easier. Enjoy a strip-less waxing...
Ingredients: Hydrogenated Rosinate, Triethylene Glycol Rosinate,...
How to use: Pour the desired amount of wax into a wakse Melting Pot or...
The Wakse Mini Rose Gold Hard Wax Beans feature the goodness of essential oils, and as a result, it helps reduce any skin inflammation. It also contains a mild and soothing scent of chocolate that remains even after the waxing process is done.
The main aim of the brand is to provide a luxurious waxing experience with its rose gold flavored hot wax beans. Just ensure you don't use this wax within two hours of sunbathing or showering.
It contains herbal ingredients like aloe vera extracts and chamomile extract that are great for your skin. Aloe vera provides nourishment and moisturization, while chamomile helps keep inflammations and irritations at bay due to its excellent anti-inflammatory properties.
6. VidaSleek Full Body Hard Wax For Short Coarse Hairs
Full Body Hard Wax For Short Coarse Hairs - All Natural - Professional Size...
For use with wax warmer (not included)
Hard Wax Hair Remover, Professional Size: Perfect for Short, Coarse...
Ideal for Face, Underarms & Bikini, 14 oz. (NOT for use on male beard...
Strip free formula for sensitive and delicate areas- No Paper Strips...
Made with skin soothing, anti-inflammatory plant-based chlorophyll
The VidaSleek Full Body Hard Wax is made from 100% natural hard wax specifically designed for people who have short and coarse hair. Also, if you haven't been waxed for a very long time, then this might be a perfect choice for you. It helps get rid of that short stubborn hair that is around the face, underarms, and bikini area.
One of the major ingredients used in this hard wax is a plant-based chlorophyll that comes in handy to relieve inflammation of the skin. This hard wax claims to shrink wrap around your hair strands to ensure even the shortest and most stubborn hair is removed. It makes sure your skin stays hair-free for up to eight weeks.
7. Wax Necessities Waxness White Tea Cream Hard Wax
The Wax Necessities Waxness White Tea Cream Hard Wax is a natural and resin-based wax that is also best suited for short and coarse hair that has refused to come out with other types of waxes. It is made from white tea leaf extracts and powerful antioxidants that help improve your skin.
It also helps remove redness, dark spots, and dullness. If you're someone who has sensitive skin and is experiencing inflammation and irritation after using home waxing kits, then this might be a great option for you.
How Do You Choose The Best Hard Wax?
1. Ingredients
It is advisable to choose a product that is formulated with natural ingredients like coconut oil, honey, almond oil and beeswax.
Sometimes, hard wax may contain paraffin as it helps one achieve a thinner and smoother application as well as reduces the drying time. It is crucial to avoid products with artificial fragrances and colors as they may irritate the skin.
2. Types
There are two major types of hard waxes, including gel hard wax and creamy hard wax. Gel hard wax is designed for thick and coarse hair. On the other hand, creamy hard wax comes with a creamy texture best used for removing fine and vellus hair. Depending on the area you're planning to wax, you may pick either of the two.
3. Application and Performance
To determine the performance of your hard wax, you should check the reviews of the product to understand how it has worked for other users.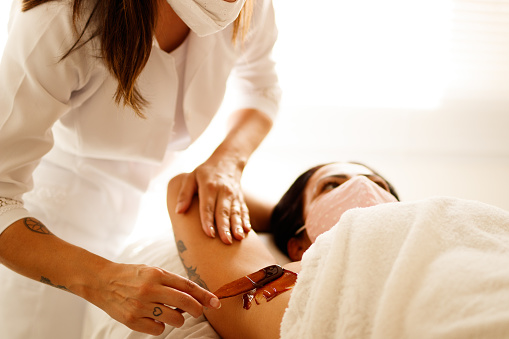 You should consider how thin or thick it can be applied. Some hard wax brands have come up with newer formulas that have advanced polymers that allow thinner application.
4. Other Features
Some of the hard waxes will also come as kits to provide everything you need for pre and post-waxing activities.
For instance, some of the best hard wax brands will include waxing strips, pre-wax spray or pre-wax oil, pre and post-waxing oil, etc., in their waxing kits. So if you require waxing strips or any other tools, be sure to get waxing kits that include them.
Benefits of Waxing
Unlike other hair removal methods, waxing provides a good number of benefits, including;
Slower hair growth since the hair is pulled from the roots.
Reduced chance of getting cuts and cuts as compared to shaving using a trimmer or razor.
Decreased ingrown hair when following the right procedure
Removes dead skin cells and helps exfoliate the skin
Reduced chance of skin irritation like discoloration, inflammation, etc.
No itchiness or prickly sensation after the wax.
Hard Wax Vs. Soft Wax
Since hard wax works best for sensitive skin, coarse hair, and small sections, it is commonly used for bikini and Brazillian waxes. It shrink-wraps the hair and is gentler on delicate facial hair, and you can also use it to remove short body hair.
However, hard wax is not the only solution to hair removal. Since it is best used for smaller areas and sensitive skin, many find it more efficient to use soft wax on larger areas like the chest or legs. Soft wax is also used for DIY full pubic hair removal as it does a great job in cleaning up the bikini line.
How To Use Hard Wax Beans
If you prefer waxing at home instead of making frequent visits to a professional, we will guide you on how best you can do it from home.
You will need;
Hard wax beans
A wax warmer
Moisturizing cream
A towel
A cotton cloth
Dusting or talcum powder
Procedure
Ensure the area you will be waxing is completely dry. Smear a thin layer of talcum or dusting powder to get rid of all the moisture.
Using the wax warmer, heat the wax beans and ensure all of them will completely melt, with no lumps.
Using a wax applicator stick or a wax knife, apply the wax over the air in small patches and in the direction of the hair growth. Ensure the wax is cool and not too hot to avoid burns.
Wait for the wax to harden, then pull it off in the direction opposite of hair growth.
Repeat the application and removal process until your focus area is free from hairs.
Soak the cotton cloth in water and squeeze it to remove excess water, then use it to clean up the waxed area.
Frequently Asked Questions (FAQs) on Hard Wax
1. Is hard wax more effective?
While both hard wax and soft wax do a great job in removing stubborn hair from the follicle, hard wax is preferred for smaller areas and sensitive skin like the bikini line, upper lip, etc. This is becoming a gentle wax and binds to the hair, not the skin.
2. What is the most painless wax?
Blue wax is said to be the most painful wax when it comes to hair removal. This is because it hardens and can be removed as a whole strip, eliminating the need for paper strips. As a result, this stripless wax is less messy and causes less pain.